(5) This is just an optional challenge. If you feel like it or have the time, make at least a start on replacing the torches on the road with embedded jack-o-lanterns.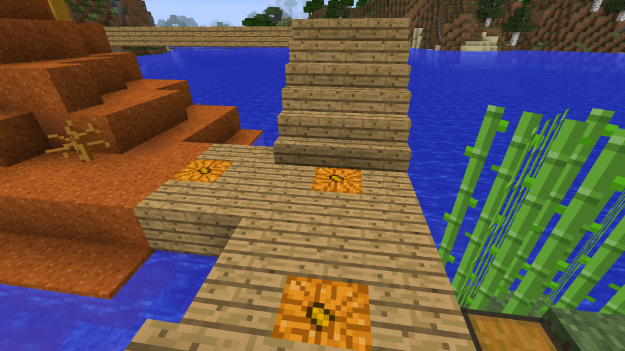 I had to wait a long time for the potatoes and carrots to grow so I had plenty of time to complete this challenge. Not only did I switch out the torches for jack-o-lanterns, but I also added steps to the blocks on the road for faster travel. I didn't do it over where the snow blocks are because the only white steps that can be made are quartz and we haven't been to the nether yet.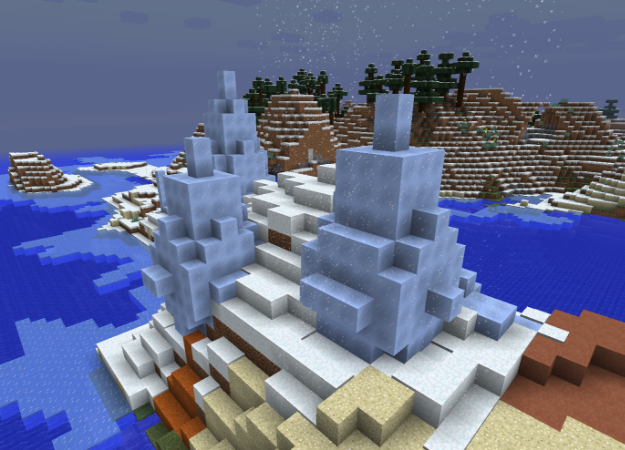 Two islands behind the ice spires where we have our igloo is another small ice spires biome. Small, but pretty.
Behind the barn about two islands back I found a tiny sunflower plains. So, Linda, there are more Sunflowers than just that poor little single flower.
Next Challenge:
1. In the barn/corral area, have sheep of 8 different colors. There are two colors in there now. Please leave at least two white sheep for breeding.
2. Have an enchanting room somewhere and have an enchanting table and all the bookcases so we can start enchanting.
3. Make 2 stacks of chocolate chip cookies.
4. Go to -21, 94, 283 and build a tall beacon tower so we can always find our way home. Don't use an actual "beacon" that can be built in the game (we don't have everything we need to build one right now). Just put lots of lights up there and we can possibly change to a real beacon later on.
Here's the map:
http://www.neighborlysimscraft.com/Fait ... layer4.zip