A young widow with her son, living quietly in Moonlight Falls and mourning their loss together. What is it that keeps them so preoccupied? Why does she do so many experiments with plants? And what is this dark secret she's trying to hide?
Their song:
Fix you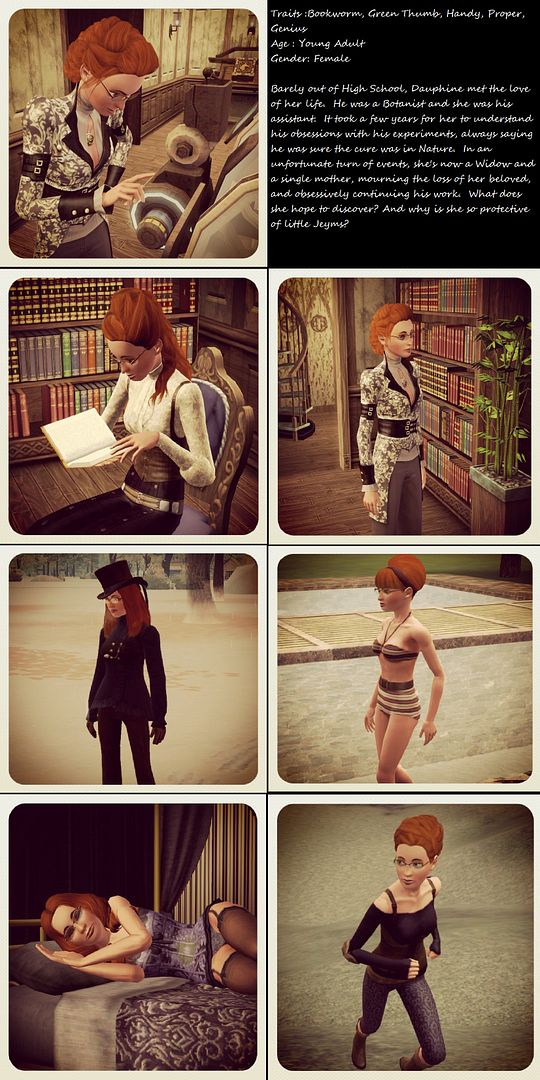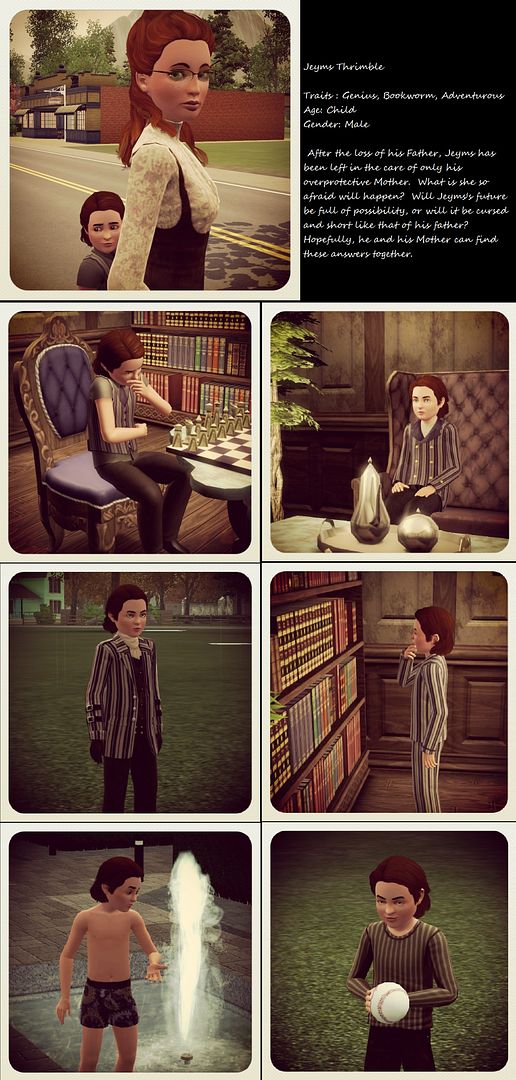 [/quote]
These Sims were made for a contest to find Montgomery his perfect match. Montgomery isn't my creation, so I cannot upload him here. He was created by HollownessDevour. The contest was for a story about how they met and such. Here's the story of their relationship...
Dauphine & Montgomery's song-
The Scientist
The day was much like any other. Nothing hinted to Montgomery that his life would be changed forever. He awoke, dressed, and ate breakfast, completely unaware of what the universe would have in store. That is when the fates tugged ever so gently at his thread. Rather than absentmindedly dumping his dishes in the sink and head to his studio, Montgomery glanced out the window for just a moment. Spring was finally overtaking the chill of winter. The sun was peeking through the grey of the clouds. Faintly he could hear some birds chirping in the buckthorn bushes. Any other day, that newspaper would sit by the door, unread, until he was annoyed enough to throw it out. Today he picked it up on his way out the door and made his way to the park.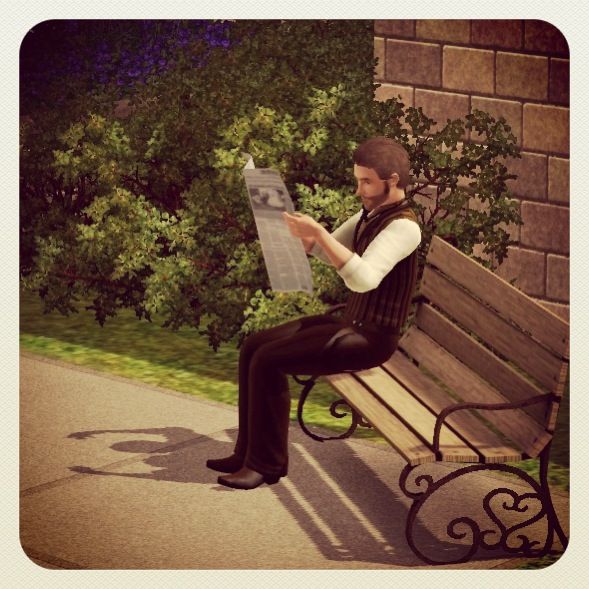 The usual articles covered the pages. Nothing seemed newsworthy lately apart from the occasional cat in a tree or some fair going on somewhere. Montgomery was about to set down the paper when he noticed a small want ad. Someone was seeking a sculptor to create a bust of their deceased husband.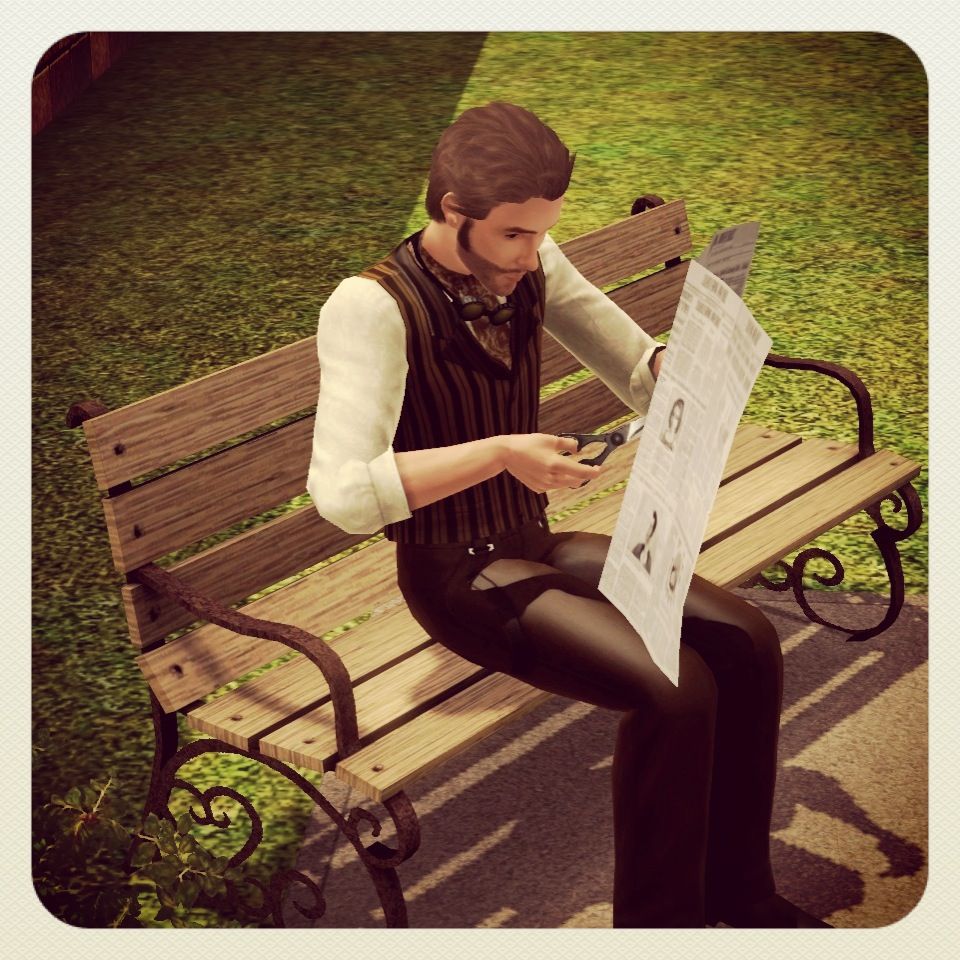 He clipped the ad from the paper. The telegram office wasn't far, and he could reply to the ad on his way home.
********
A telegram came this afternoon about the ad. She was beginning to give up hope that it could be done. Jeyms was missing his father terribly, and Dauphine couldn't bear the pain of talking about the circumstances of Graham's death. Now she wrestles with the fear that the same could happen to Jeyms someday. The pain is all too much.
She went to visit Graham's grave. Though he was gone, talking to him as though he were right there brought some comfort.
"Someone responded to the ad today. They believe they can have the sculpture done in about two weeks. That's right around the time that Jeyms and I have to go out to the country for a few days, as you probably remember. We spent so many moons there, you and I. He doesn't like the trip. I think it reminds him too much of you. There's just too much of you in him. The research is still crawling along slowly. I just don't know how I can continue it on my own. I need you."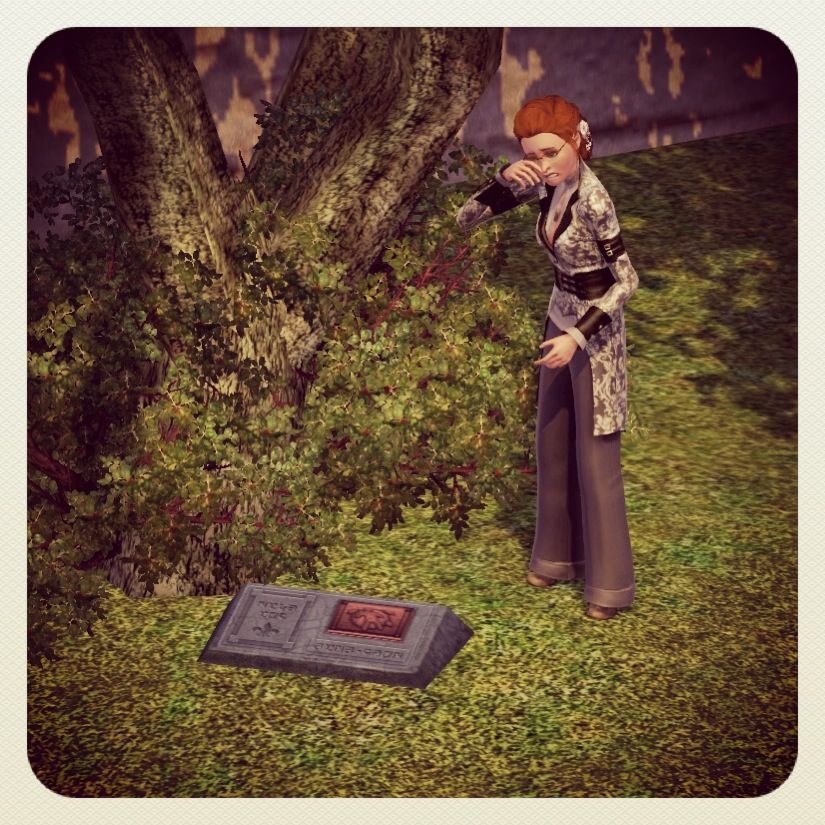 Dauphine wiped the tears from her face and returned home. The meeting would be tomorrow morning, and she had to get through photographs to show the man. There is nothing in the world that Dauphine would deny Jeyms, but this was certainly a difficult request. In her heart she knew it would just serve as a reminder of all they had lost, and the hope that likely died with him.
**************
Dauphine was running late to the meeting. Montgomery was about to leave when he saw her pull up. His heart stopped for just a moment.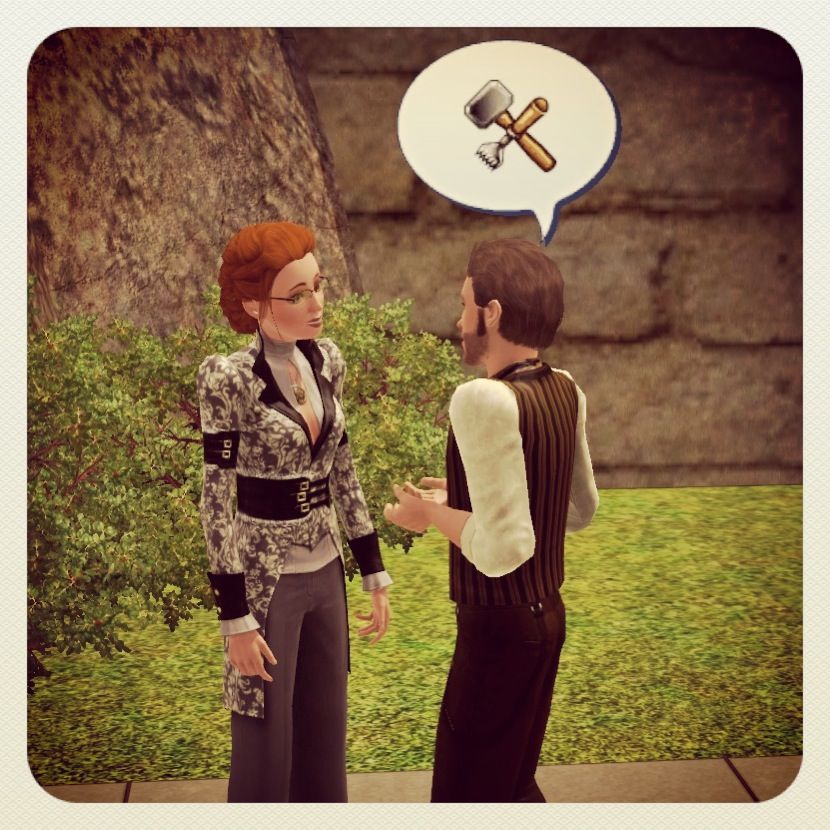 They talked for hours, though it seemed like just a few minutes. She'd already given him the photographs and the painting of her late husband, but Montgomery had difficulty letting her leave. Something about her just drew him in. Perhaps it was her grief, but he wanted to take her in his arms, comfort her, and not let her go.
He went back to his studio to begin right away. The photographs were scattered at his feet, but it wasn't the man in them that drew Montgomery's gaze. He couldn't shake her from his thoughts. It felt like the tools in his hands were bending him to their own will. His conscious mind couldn't focus on the job.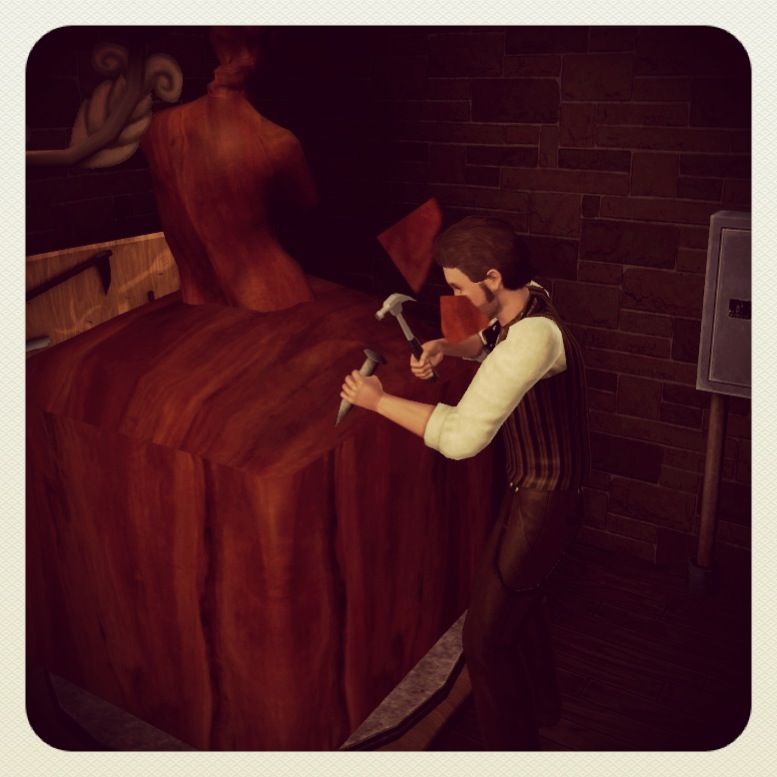 When he finally stopped for a moment, realization struck that this wasn't what he'd intended. He was far too distracted. He had to see her again.
**********
The two days waiting on a response to his telegram was like agony. Finally the response arrived. She'd agreed to sit down with him, at her home, to discuss the project. It wasn't the project he wanted to discuss, but any excuse would do for now.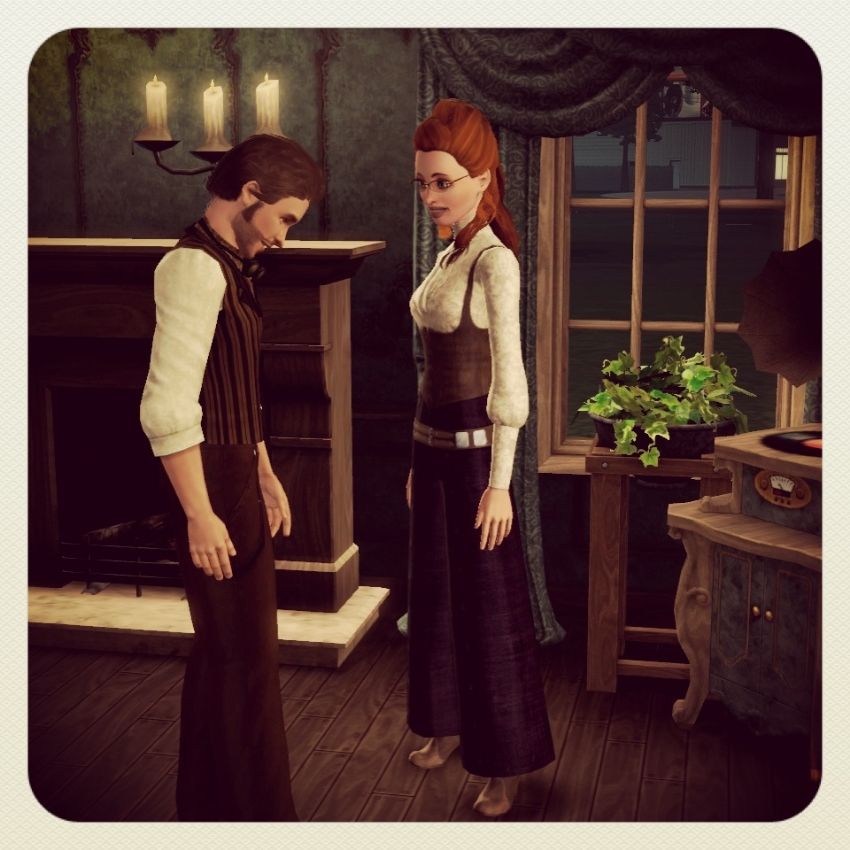 First he had to admit the problem.
"I'm so sorry, but I'm having some difficulty in working on this piece."
"Were there not enough photographs?"
Dauphine's wrinkled her nose at the idea of having to pull out more photos. It was hard enough to go through them in the first place.
"No, the photographs are fine."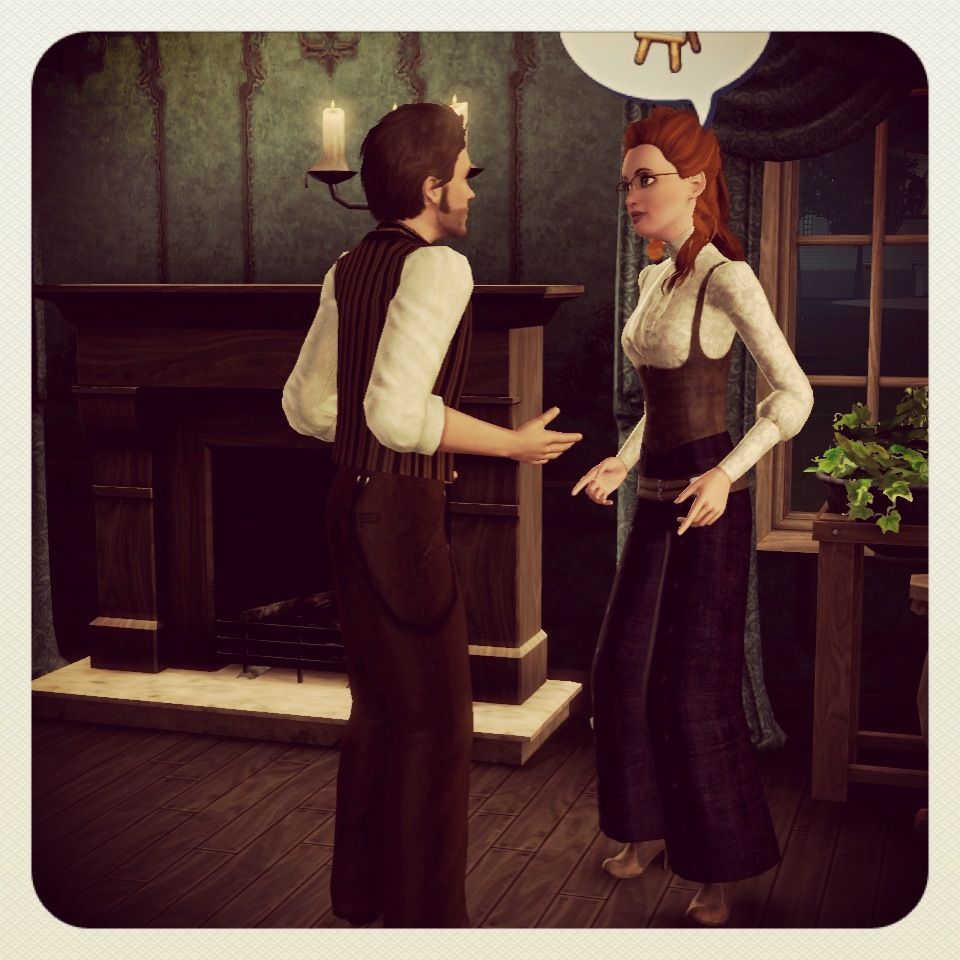 "Is the painting too dark? I may have another in storage if you need."
"The painting is fine. The problem is me. I can't focus. I'm far too distracted. I'll need more time."
"Oh! I didn't realize the deadline might be a problem. Of course you can take more time. Would you be able to complete it in a month?"
"Perhaps. Could I bother you for a cup of tea?"
Anything to change the subject. Montgomery's stomach was in knots. She's recently widowed, grieving, and not likely looking for someone right now. No matter how much he tried to be logical, something in him refused to listen.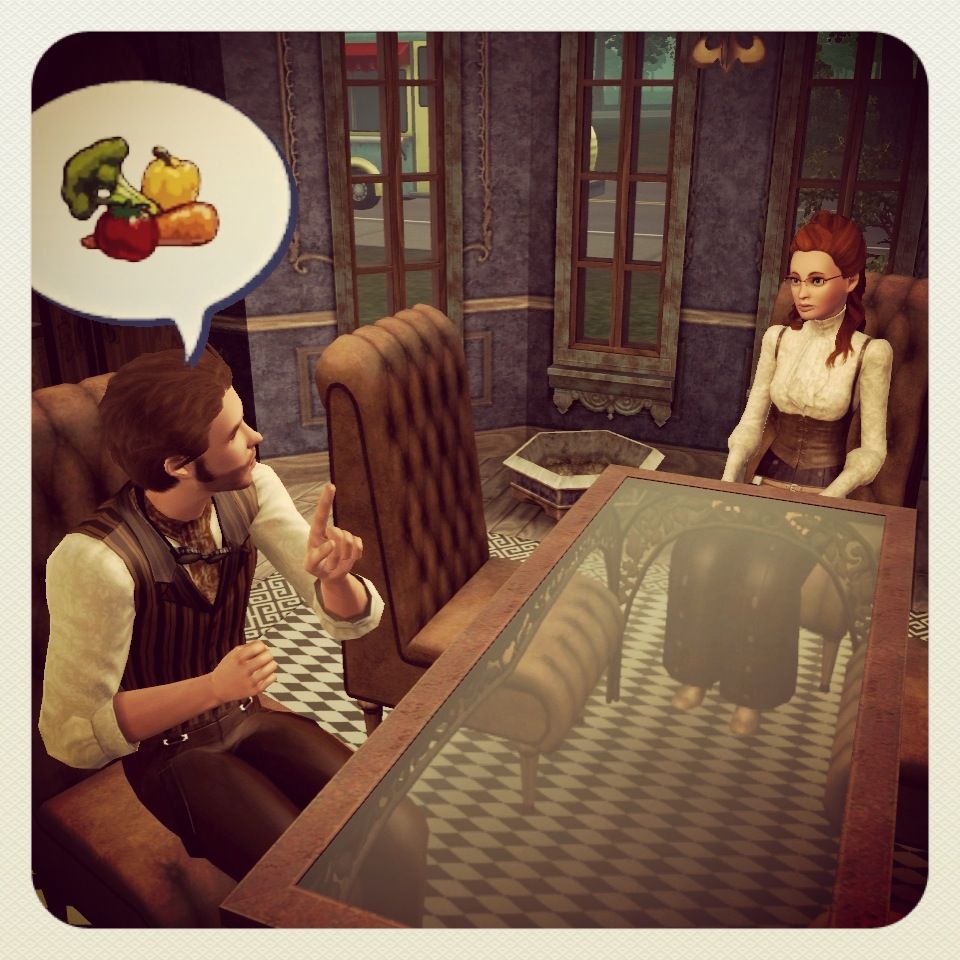 Over tea the conversation got lighter. She talked about her research, and he genuinely wanted to know all that he could. Though Dauphine skirted the topic of what she was hoping to find, Montgomery listened intently as she discussed Botany, Chemistry and Alchemy. There was so much passion in her voice when she spoke about Science. It was how he felt about Art, so he could understand the ways that your passions could touch you to the core and consume your soul. She talked about essential oils, and root essences. Montgomery knew little more than this is a tree, and this is a flower.
There was a tremble in her voice when she spoke of her son, Jeyms. It seemed like she was afraid of something, but Montgomery knew not to press. What ever it was, she guarded that fear like a dark secret. Minutes turned to hours and the tea was as cold as ice when Jeyms walked in from school. Jeyms greeted them in the kitchen. Something in the boys eyes startled him, so Montgomery wished them well and made his way to the train station to return home. He'd seen eyes like that somewhere before. Somewhere in a painting...
*************
Another batch of samples failed. Without Graham, the process was getting overwhelming. He was always the more intelligent of the pair. An order of exotic herbs and flowers would be on it's way from Shang Simla this week. Glancing at the calendar, Dauphine prayed silently to herself that they'd arrive before their trip.
She was reviewing her notes when her mind began to drift to the handsome artist. Montgomery had a strong jawline. It was very attractive. What was she thinking? Graham has been buried less than a year and she's fantasizing about the jawline of some strange man! Clearly the loneliness was getting to her. She set her notes down and went upstairs. Jeyms was already in his pajamas and ready with the book for his bedtime story. No other child she'd heard of wanted to hear case histories of supernatural studies. Of course, she's known since he was just a toddler that Jeyms was not a normal child. He craved to understand his condition. That was where they differed. He wanted to understand. She wanted to cure him. It had become her life's goal to find a way to help Jeyms live a normal, mortal, life. Dauphine read two of the case studies before Jeyms started to drift off. She swept his hair away from his brow and kissed his forehead. He smiled a weak sleepy smile. She whispered, "I will try to fix you. I love you."
Jeyms groaned quietly and rolled over onto his side.
*******************
The library only had a handful of books on the subject of plants. Most of them involved planting and harvest times for various vegetables and fruits. Nothing even touched the depth of understanding that Dauphine showed.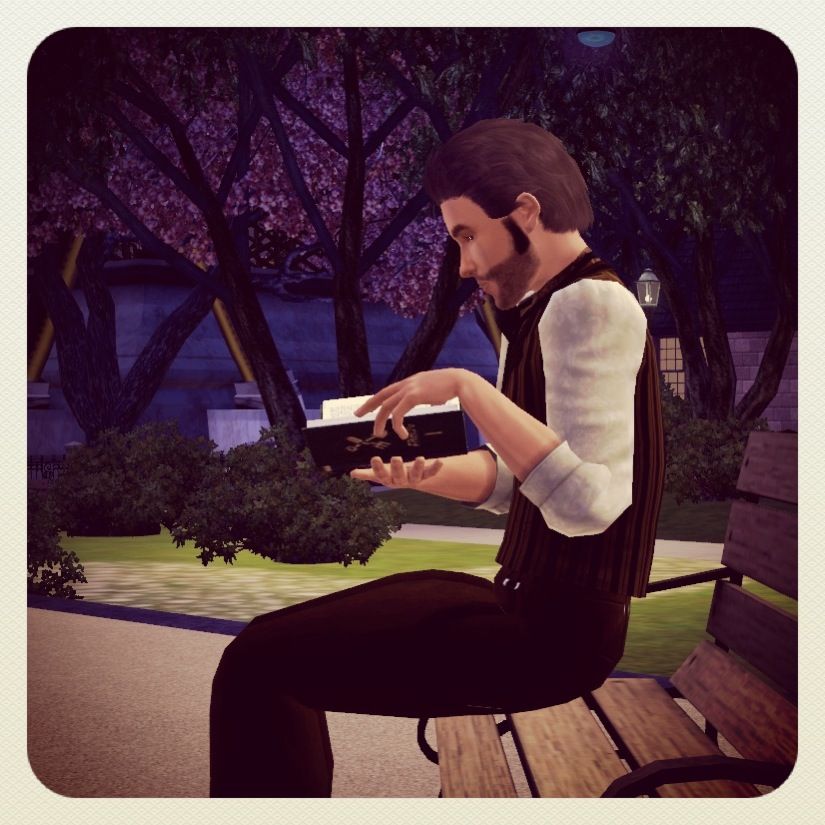 "Hmph. I'd always thought that was a lovely flower." Montgomery muttered as he was reading about some invasive weeds. Clearly he had much to learn. If he could learn all there is to know about plants, maybe he could help Dauphine with her research.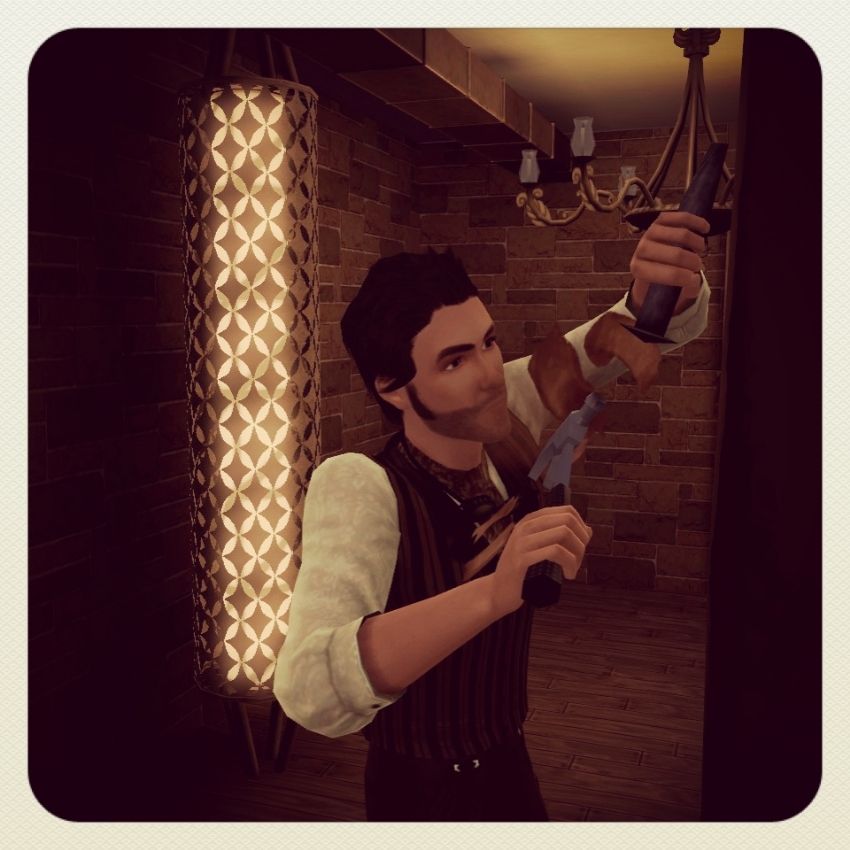 Days passed and Montgomery tried to get back to work on the project, but after talking with Dauphine about the subject, he felt the pain of loss as though it were his own. He tapped aimlessly at the block in front of him, making no real progress. He knew what he had to do. He would go to Dauphine and confess his feelings.
The following morning he was standing out front of the telegram office when Mr. Burns unlocked the door.
"Urgent message?"
"It could be a matter of life or death." Montgomery replied with a sly grin.
"Sounds serious."
"Matters of the heart always are."
Mr. Burns gave an omniscient nod as they walked into the office. He immediately got to work sending the message.
****************
The new samples hadn't arrived yet but she knew they couldn't delay any longer. The full moon would be tomorrow and she had to get Jeyms to a safe place.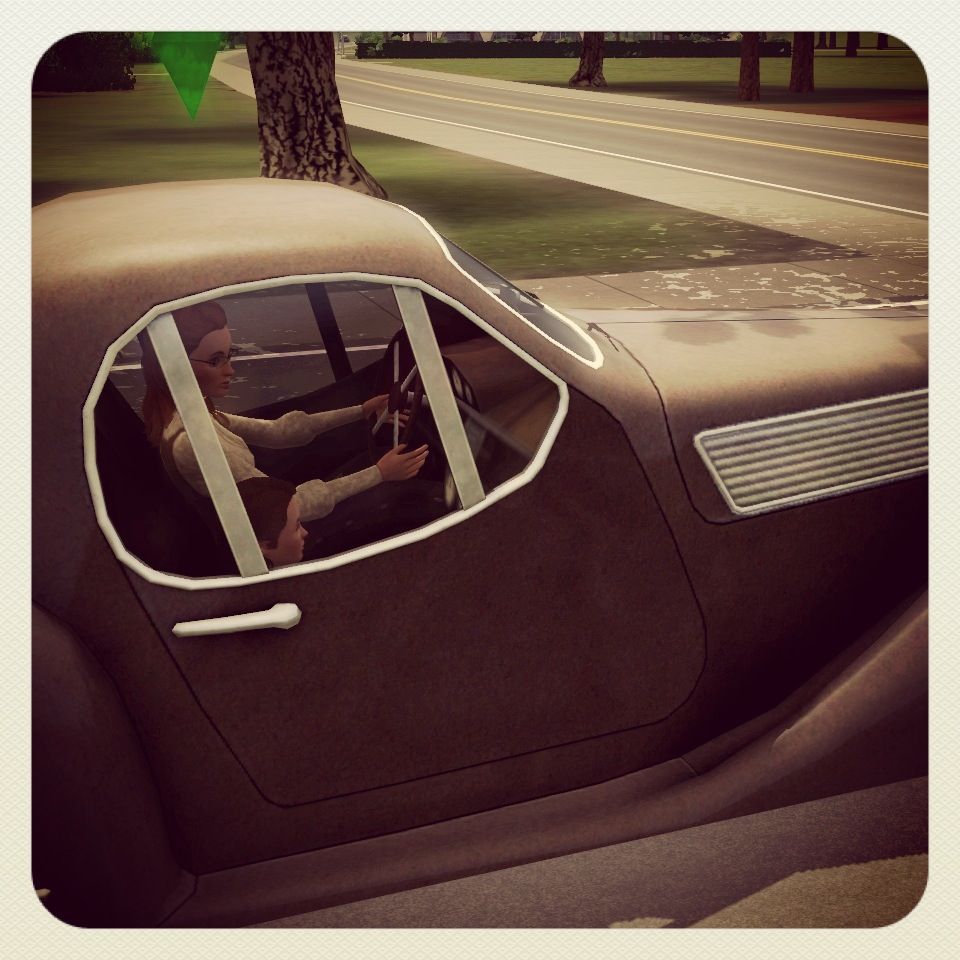 The courier was biking down the road as she and Jeyms began to pull away. She stopped immediately to see what he was delivering. She was disappointed when she saw it was just a telegram, but took it graciously and got back into the car. Thank goodness the drive gear wasn't engaged when she read the message.
I'M SORRY *STOP*
YOU DON'T KNOW HOW LOVELY YOU ARE *STOP*
I CANNOT FINISH THE JOB BECAUSE I CAN'T GET YOUR FACE OUT OF MY MIND *STOP*
I NEED TO SEE YOU *STOP*
She could feel her heart in her stomach. It wasn't just her. He felt that spark too. She glanced at Jeyms in the passenger seat and knew there was no time for romance. Her heart was aching, but her son needed her. She stopped at the telegraph office on her way out of town to reply, but the message she sent was not what she'd intended.
She'd meant to shoo him off. Something wouldn't let her write the words she so desperately needed to scribble on that paper. She sent the only message she could muster.
I WILL RETURN TO TOWN IN ONE WEEK *STOP*
WE CAN MEET THEN *STOP*
*************
The week seemed like a month for Montgomery. He couldn't focus on his work. At times he found himself just staring between the clock and the calendar, figuring out in his head how long until he would hear from her. The frustration got the better of him and he packed a suitcase and made his way to the train station. Montgomery purchased a ticket to Paris in hopes that the works of so many great artists could get him back on track.
Meandering through the galleries and museums did little to focus his thoughts. He checked into a hotel and unpacked his case, laying out his things on the bed. When he shook out his jacket, one of the photographs drifted to the floor. He hadn't realized it was in his jacket pocket. Montgomery reached down to retrieve it and saw her there looking back at him. She was standing with her late husband beneath the Eiffel Tower. What an idiot! This was why he thought of Paris, not because of the Art, but because of her. He folded the jacket and laid it back in the case before walking out of the room and locking the door.
On the street, the gas lamps flickered in the damp air. He was sure he'd seen a telegraph office earlier today and he hoped it wasn't yet closed for the night. He made it to the door as the telegraph operator was walking out to close.
"Please, I need to send a message."
The man saw a hint of pain and worry on Montgomery's face, and agreed to send a message.
*******
The full moon has finally passed. It always breaks her heart to lock Jeyms in that root cellar during the change, but it's the only way to keep him from hurting himself or someone else. He emerged and blinked at the sun a few times, then looked at his mother.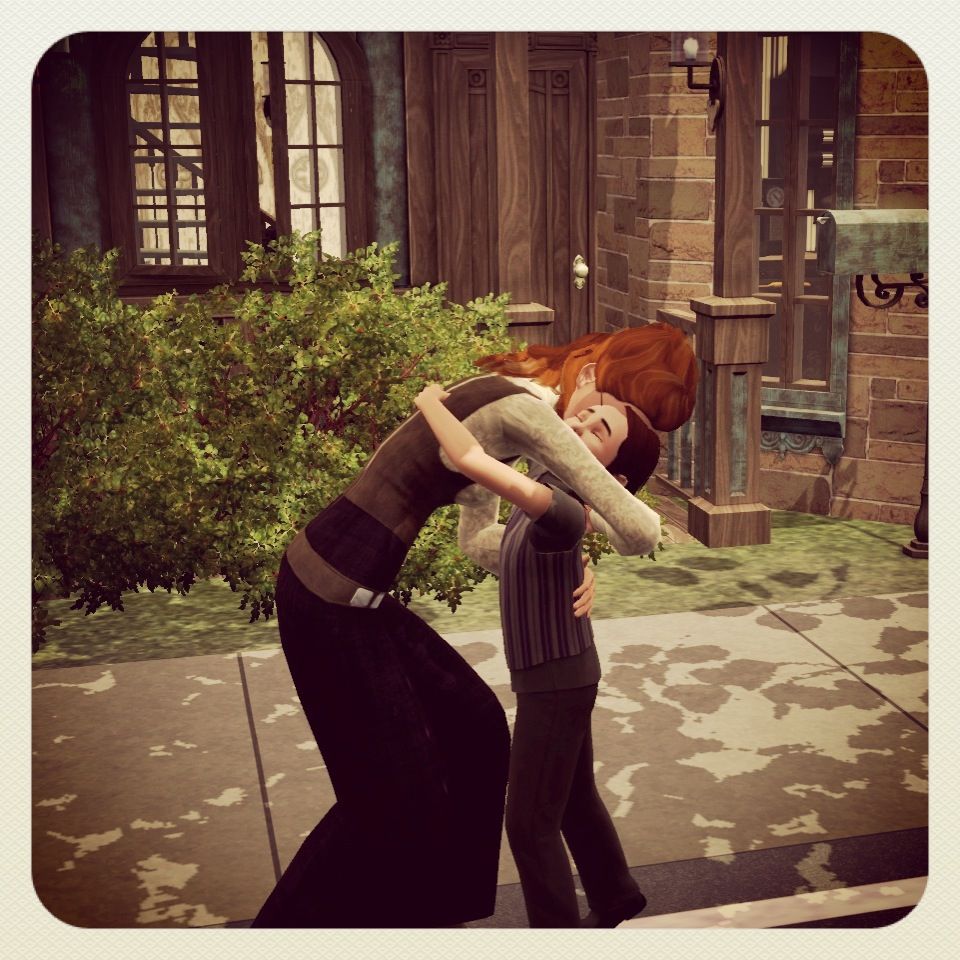 Jeyms hugged Dauphine excitedly, almost jumping up and down.
"I did it!" he exclaimed to her.
"What did you do?" the concern in her voice was more than clear.
"I controlled it! I controlled myself just like the ones in the case studies!"
A wave of relief came across Dauphine. She hugged Jeyms close to her as tears rolled down her face. "I knew you could."
They gathered their things and began the trip home, talking all the way about the change, about Jeyms not wanting the cure, and about the sculptor. Dauphine confessed that she had feelings for him, but she didn't want to replace Graham. What Jeyms said next nearly made her lose control of the car.
"He doesn't want you to be alone. He thinks you'll be happy with this new man."
"What? How would you know that?!"
"We talked about it last night." His voice so matter of fact, it was like he believed what he was saying.
"You mean you had a dream about it?"
"No, he was there with me, in the cellar, helping me to control it."
"Jeyms, that's not possible. Your father died."
"His body died, I know he was shot as a wolf, but his spirit stays with me."
The blood rushed from Dauphine's face. She was white as bleached cotton. She knew she'd never told Jeyms the circumstances of his father's death. Could he be right? Could his father be with him in spirit?
They rode silently for a while as she processed everything. Jeyms finally broke the silence.
"I want you to be happy too. I love you."
She smiled as they pulled up the house. Jeyms grabbed the luggage and Dauphine noticed a telegram posted on the door. She walked over to look at it and almost tripped over the box of samples. Another smaller package was at the stoop also. She gathered the samples and put them in the cooler in the lab, then returned her attention to the telegram and the other package.
I'M IN PARIS *STOP*
SENDING YOU A TRAIN TICKET *STOP*
PLEASE COME I NEED TO ASK YOU SOMETHING *STOP*
I'LL BE UNDER THE TOWER AT 8PM TUESDAY *STOP*
In the package was a train ticket and cash, with a note that she could bring Jeyms along if she wished with the money that was included. She decided better of it. Dauphine needed the time alone on the train to figure things out for herself. She made arrangements with her mother to care for Jeyms while she was gone. She had some decisions to make, and quickly.
***************************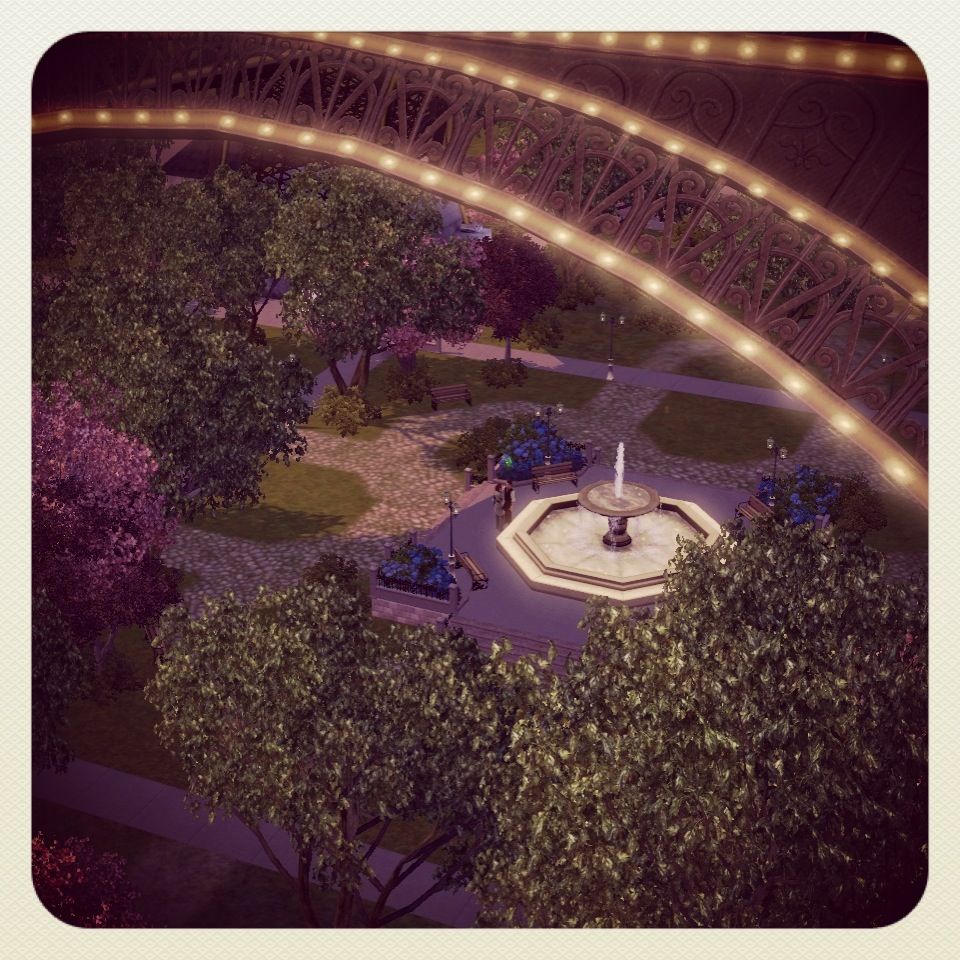 Standing in the shadow of the Eiffel Tower, Montgomery's heart was beating out of his chest. He was so nervous. His hands kept shuffling through his pocket as he struggled with his decision. It was so fast, but it felt so right. He nearly jumped out of his skin when the clock tower chimed it's 7:30 bell. He looked up to scowl at it for startling him when he met her gaze. She was lovely in the light of the moon.
She stepped forward toward him, and she looked as nervous as he was. Montgomery was about to speak when Dauphine raised her hand to ask him to wait.
"I have to be honest with you about something. It's not easy for me to talk about, so please hear me out before you pass judgement about it."
Montgomery nodded and signaled to a bench near the fountain where they could sit and talk. She sat down, then wrung her hands in her lap for a moment before looking up at him to speak. When her eyes finally met his again, his heart melted. There was so much fear in her eyes.
"Could we walk and talk? It may be easier for me."
"Of course."
They quietly strolled around the fountain for a few minutes before she gathered her courage to speak again.
"With the way we met, you know that I lost my husband. You don't know the whole truth. The manner..." She trailed off for a moment before composing herself once more.
"He wasn't a normal person. He was a scientist, greater than me, but it was more than that. He had an illness."
"I'm so sorry, that must have been..." Montgomery tried to interject before she cut him off again. She stopped mid stride and turned to face him.
"He was afflicted with Lycanthropy, and he passed it on to Jeyms. I've been trying so hard to find a cure, working endlessly, studying everything I can find..."
Montgomery raised his hand to her lips to quiet her as she began to frantically ramble. He wrapped his arms around her and pulled her close, looking into her tear filled eyes he said quietly, "I know."
"What do you mean you know?" she asked in disbelief.
"That first time I met him. I recognized the faint glow in his eyes. I've seen it before, in paintings. It wasn't in your eyes, so I began to wonder if what I saw was really there, not a trick of my mind. I wasn't sure until I returned home and studied the photographs you'd given me for the project. His father had the same faint glow in his eyes."
"You knew and you're not scared?"
"I know there is a cure if he wants it. There's an alchemist in my home town that is a local hero for discovering it."
She pulled back for a moment, he could see joy on her face.
"There's a cure?" her voice broke weakly as she tried to understand the words.
Montgomery smiled at her, "Yes my dear. There is."
She hugged him close to her, overjoyed at the news. He wrapped his arms tightly around her for a moment, then reached his hand under her chin. He pulled her gaze to his and leaned in to kiss her.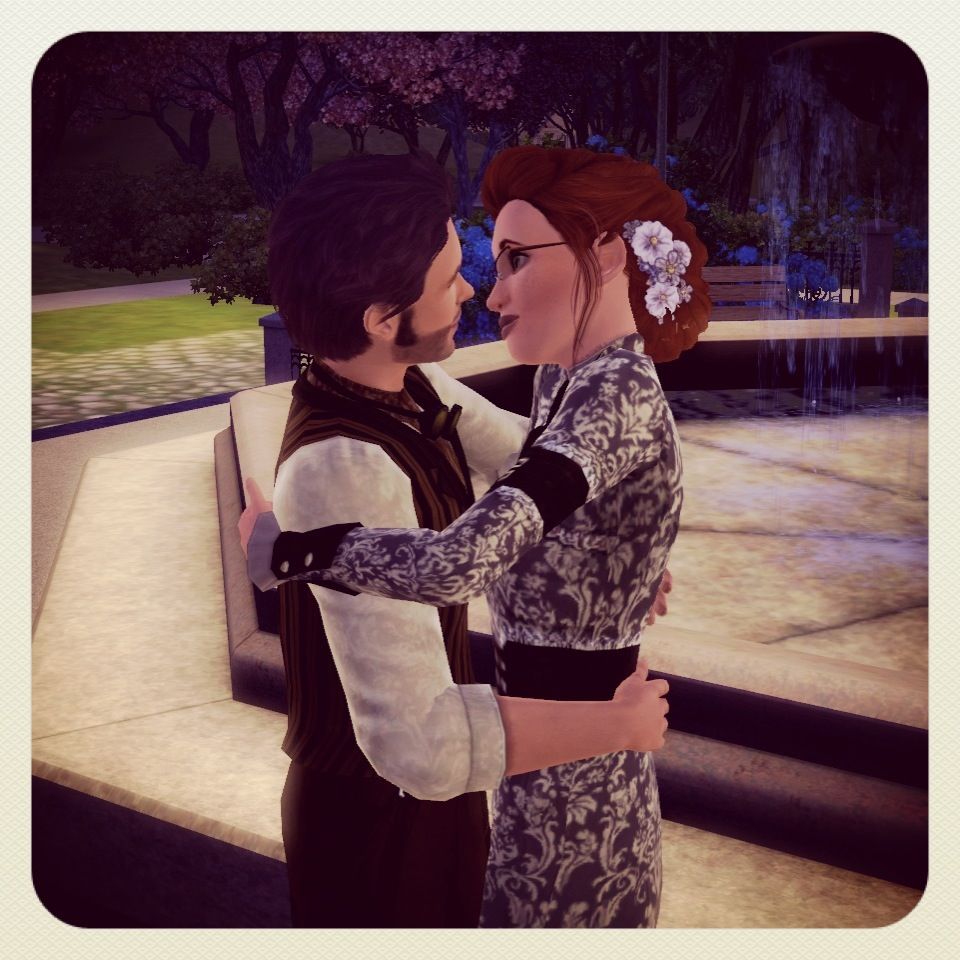 What they both felt could only be described perpetual electricity. It didn't dissipate with time, it just continued to circulate between them. In that instance he knew he'd made the right decision. He broke their embrace and dropped to his knee to ask...