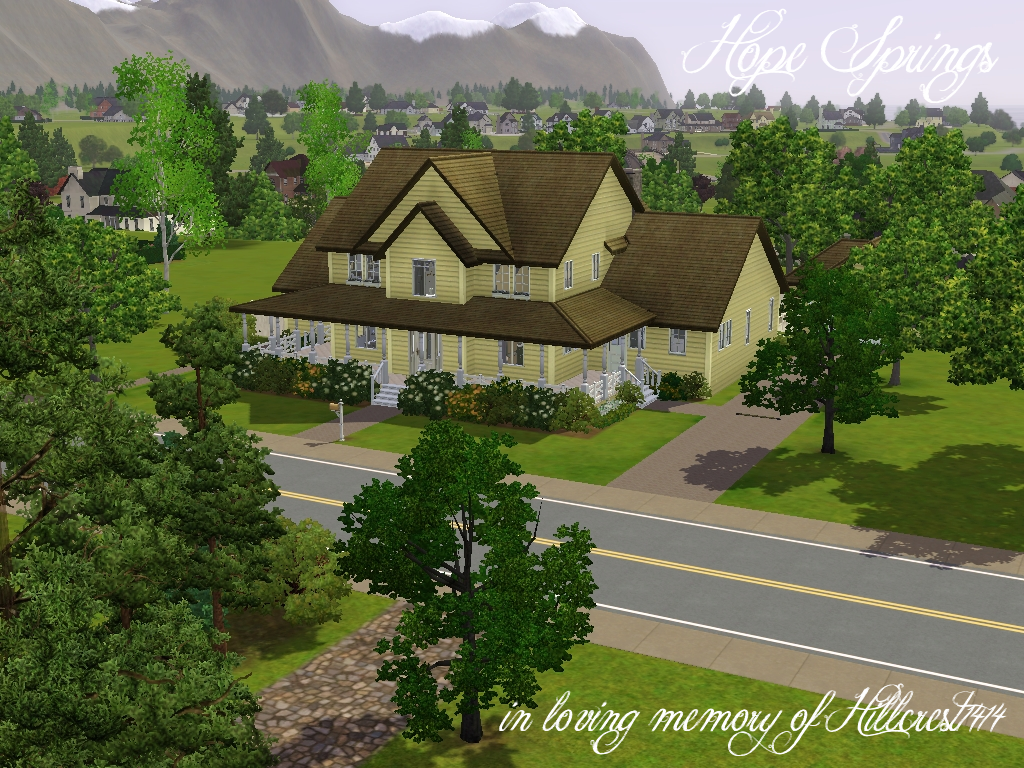 This world was designed around Wendy's lots and is dedicated to her.
Description:
The town of Hope Springs is located along the coastline and is nestled amidst a mountain range. Its residents value beauty and appreciate the simple pleasures of life, including spending time with family, friends, and nature. Peace, joy, hope, love, and tranquility reign here. Attracted by all the many flowers surrounding the homes, many butterflies also make their homes here.
World Amenities:
141 Residential Lots (? of which are empty)
34 Community Lots
Large map, 2048x2048
All base game rabbit holes, one large park, three small parks, two fishing holes, a beach, a beach arcade hangout, a chapel, a salon, a fire station, an equestrian center, a community stable, and a consignment shop/laundromat/tattoo parlor have been zoned into the world. Four of these lots were created by Wendy, the rest will be created by me.
In addition, I am eventually planning to make Seasons variants of some of the community lots, which will include a Festival Grounds lot.
All base game collectibles spawners are included. Most of the later EP collectibles share these same spawners, so you should also see those items spawning. No World Adventures collectibles spawners have been included, since I feel these should be in the vacation worlds only in most cases.
Game Requirements:
EPs:
World Adventures, Ambitions, Late Night, Generations, Pets
SPs:
High End Loft, Fast Lane, Outdoor Living, Town Life
Game Version:
1.26 or higher
System Requirements:
Please note that this world, with all of Wendy's lots installed, will require a high end system. If your system doesn't have sufficient RAM you will experience problems with saving your game and with random crashes. I'm currently estimating that 8+ GB of RAM will be needed for the fully occupied version of the world. If your system is slower, has a lower end video card, or doesn't have enough RAM you should still be able to play the world if you install less of Wendy's lots.
Notes:
Hope Springs is currently in the final stages of development and should be entering beta soon, with a target release date for the empty world in early December. The public lots that I'm creating will be released gradually after that time, as will updated versions of any of Wendy's lots that require repairs due to problems that have arisen in the game over the years.
More info and pictures can be found in the development thread located at:
viewtopic.php?f=111&t=1169#p3627
Download Links:
Download from Meadowbrook Homes